I am sending out a quick email to let all of you know that we have two open spots on our Marie Amazon Peacock bass trip.  The trip is limited to 8 anglers and we will be staying on an amazing house boat fishing for the largest peacock bass in the Amazon basin.  As usual Tim Landwehr will be hosting this trip and will take care of all of the details.   The spots will go quick so give Tim a shout at the shop for details.

Rio Marié is simply the ultimate peacock bass fishery. It is what the locals call "Rio de Gigantes"
Rio Marié is entirely located inside an extensive Indian Territory – an area of more than two million hectares. This untouched environment has more than 800 kilometers of rivers, 180 known creeks, 60 lakes, and three major tributaries inside the new operation area. It is the first exclusive fly fishing only project allowed and supported by the Brazilian Government. Official Environmental and Indian Institutes worked together with the Indian Association to create the very first official sport fishing operation in Brazil inside an Indian Territory.
The result of these efforts is access to a fishery that is unlike any other in the world.
Rio Marié is now the largest fly fishing only reserve in the Amazon and one of the largest fly fishing only areas in the world.

Rio Marié is also home to more double digit, trophy peacock bass and a higher concentration of those monster fish than any other river in Brazil or the Amazon. This has been independently verified with scientific research. And not only do we often encounter peacock bass larger than 10 pounds, but we are also proud that this is the best place in the world to fly fish for 20 pound peacock bass.
This river area is huge, encompassing nearly 500 miles of virgin waters, and it boasts a healthy population of giant peacock bass. For anglers, this translates into very real opportunities to consistently hook and release much larger-than-average peacock bass on the fly.
Marié uses as accommodation, the Untamed Amazon, our own brand new vessel specially designed for the Marié project.
The Untamed Amazon is the very first vessel in entire Amazon with 100% Solar Power Generation for all electricity use. The system has 96 state of art German solar panels generators and 3 tons of Hitachi Solar Batteries – the most advanced Japanese battery system for solar power generation. The Untamed Amazon is an audacious project, which brings a new concept in boat design that changes the current fishing vessel standards. All boat space was planned to promote a unique remarkable experience.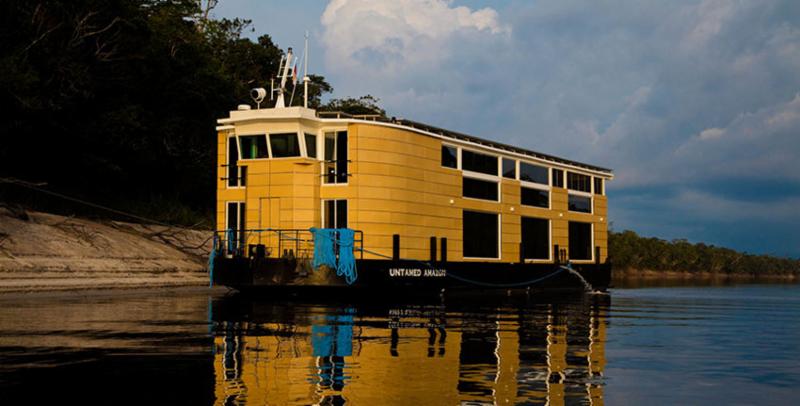 The Untamed Amazon has 3 floors. Lower Floor is the restricted area for staff, where is located the heart of the boat – a twin 200hp propulsion engines. It's also has the laundry, staff rooms and water filtration systems. All the boat has a sewage treatment plant.
Main floor has 8 suites, where 6 of them are available for Marié guests (5 double and one single suite). Each Suite has a new standard in space and amenities for a fishing vessel. Each suite accommodates two person, in super single beds. Besides, it has a private bathroom and air conditioning and good space for clothes storage.
The upper floor is the place for relaxes after your long fishing day. We offer a spacious living and dinning room, and on the rear an open lounge where we serve the drinks and appetizers with two big Jacuzzi's for up to 10 people.
The 3rd floor also counts with the chef's cuisine and the command control of the vessel.
Rio Marie Video-Join Tim Landwehr on yet another epic adventure.